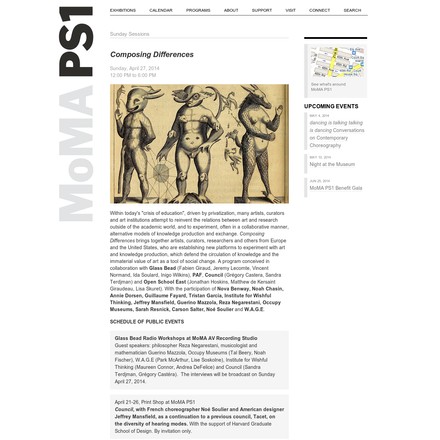 April 27, VW Dome Composing Differences Following a weeklong program of workshops, talks and encounters at MoMA PS1, MoMA AV Recording Studios and e-flux, Composing Differences participants and their guests convene at MoMA PS1 for a Sunday Session navigating across various fields of knowledge to review possible methods and address art's relations with pedagogy, activism, representation and commoning.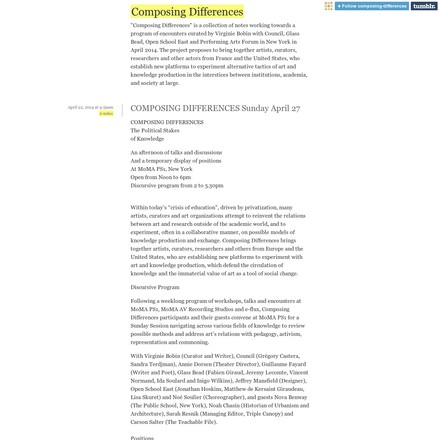 COMPOSING DIFFERENCES Sunday April 27 COMPOSING DIFFERENCES The Political Stakes of Knowledge An afternoon of talks and discussions And a temporary display of positions At MoMA PS1, New York Open from Noon to 6pm Discursive program from 2 to 5.30pm Within today's "crisis of education", driven by privatization, many artists, curators and art organizations attempt to reinvent the relations between art and research outside of the academic world, and to experiment, often in a collaborative manner, on possible models of knowledge production and exchange.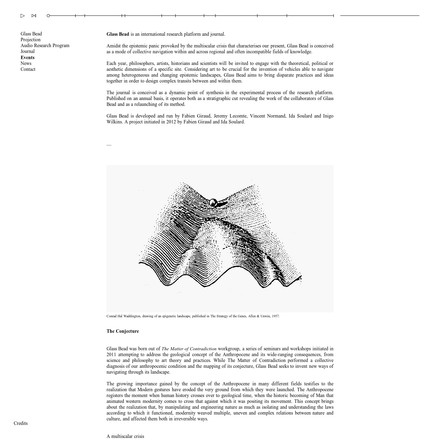 Prior to its 2015 launch, Glass Bead inaugurates a year of inquiry in New York with a weeklong radio series addressing how art practices can explore new geometries of knowledge and initiate different modes of instituting.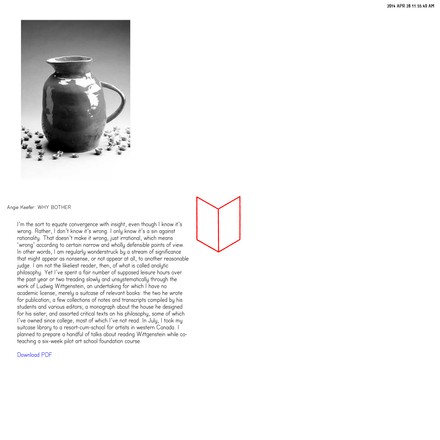 I'm the sort to equate convergence with insight, even though I know it's wrong. Rather, I don't know it's wrong. I only know it's a sin against rationality. That doesn't make it wrong, just irrational, which means 'wrong' according to certain narrow and wholly defensible points of view.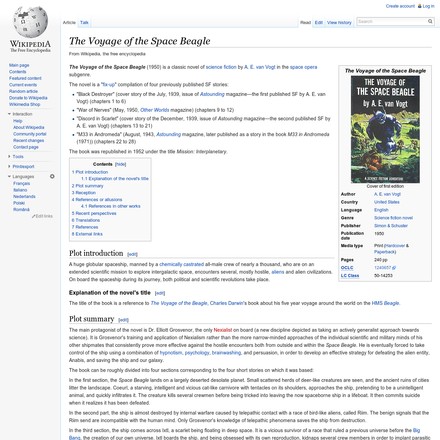 The Voyage of the Space Beagle (1950) is a classic novel of science fiction by A. E. van Vogt in the space opera subgenre. The novel is a " fix-up" compilation of four previously published SF stories: "Black Destroyer" (cover story of the July, 1939, issue of Astounding magazine-the first published SF by A.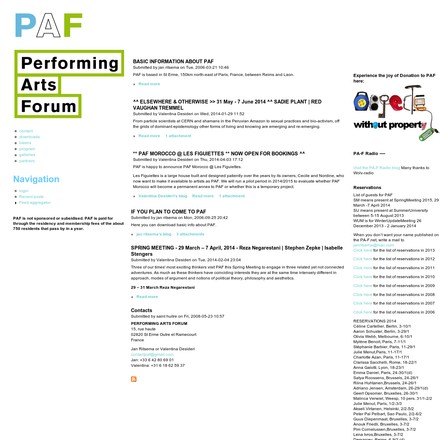 Les Figuiettes is a large house built and designed patiently over the years by its owners, Cecile and Nordine, who now want to make it available to artists as PAF. We will run a pilot period in 2014/2015 to evaluate whether PAF Morocco will become a permanent annex to PAF or whether this is a temporary project.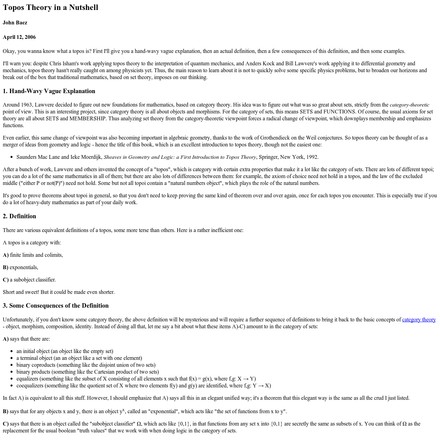 Topos Theory in a Nutshell John Baez April 12, 2006 Okay, you wanna know what a topos is? First I'll give you a hand-wavy vague explanation, then an actual definition, then a few consequences of this definition, and then some examples.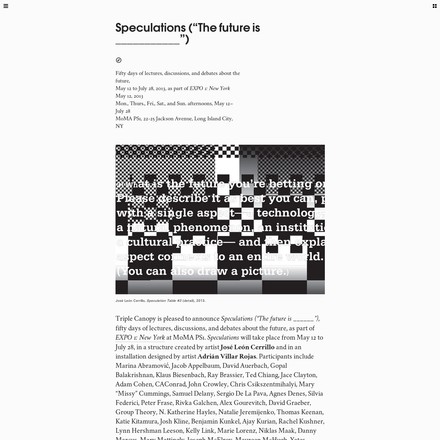 Triple Canopy is pleased to announce Speculations ("The future is ______"), fifty days of lectures, discussions, and debates about the future, as part of EXPO 1: New York at MoMA PS1. Speculations will take place from May 12 to July 28, in a structure created by artist José León Cerrillo and in an installation designed by artist Adrián Villar Rojas.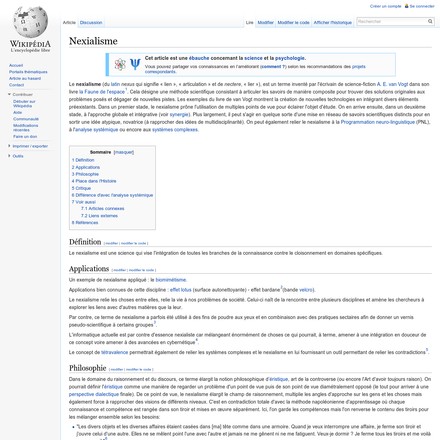 Le nexialisme (du latin qui signifie " lien ", " articulation " et de , " lier "), est un terme inventé par l'écrivain de science-fiction A. E. van Vogt dans son livre la Faune de l'espace. Cela désigne une méthode scientifique consistant à articuler les savoirs de manière composite pour trouver des solutions originales aux problèmes posés et dégager de nouvelles pistes.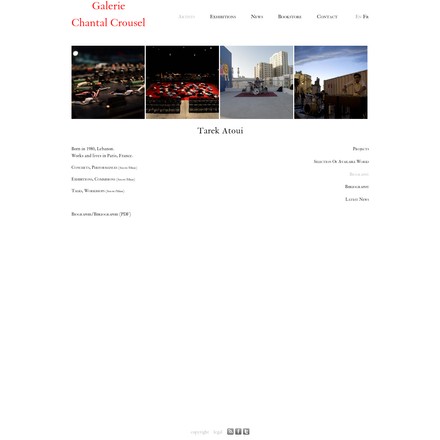 Galerie Chantal Crousel - The Chantal Crousel Gallery is proud to present the biography of Tarek Atoui.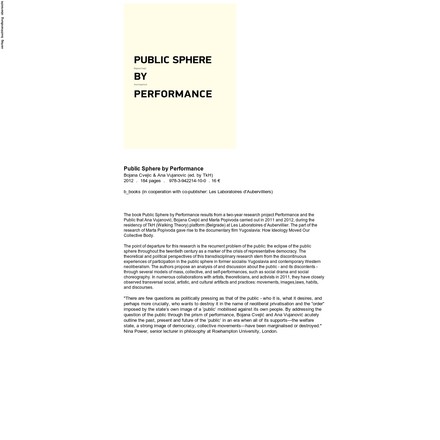 The book Public Sphere by Performance results from a two-year research projectPerformance and the Public that Ana Vujanović, Bojana Cvejić and Marta Popivodacarried out in 2011 and 2012, during the residency of TkH (Walking Theory)platform (Belgrade) at Les Laboratoires d'Aubervillier. The part of theresearch of Marta Popivoda gave rise to the documentary film Yugoslavia: HowIdeology Moved Our Collective Body.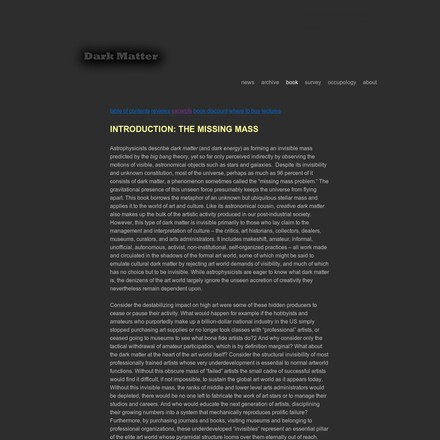 table of contents reviews excerpts book discount where to buy lectures Astrophysicists describe dark matter (and dark energy) as forming an invisible mass predicted by the big bang theory, yet so far only perceived indirectly by observing the motions of visible, astronomical objects such as stars and galaxies.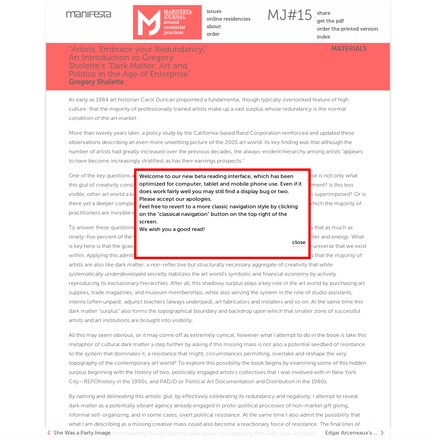 Gregory Sholette Materials As early as 1984 art historian Carol Duncan pinpointed a fundamental, though typically overlooked feature of high culture: that the majority of professionally trained artists make up a vast surplus whose redundancy is the normal condition of the art market.