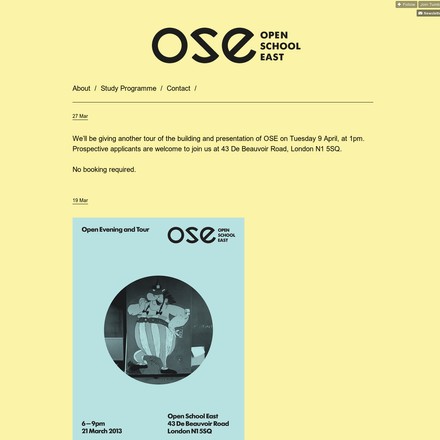 Join our Mailing List Email Address Close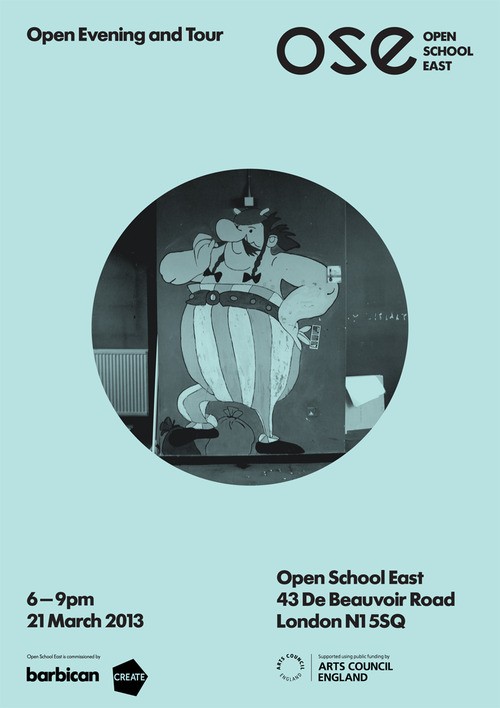 Applications for approximately 12 associate places are now open.
Deadline: Monday 15 April 2013, 6pm.
Presentation and tour of the building: Tuesday 9 April, 1pm.
Address: 43 De Beauvoir Road, London N1 5SQ.
Launching in September 2013, Open School East is an art school and communal space housed in the former Rose Lipman Library in De Beauvoir Town, in Hackney. It is set up to facilitate the sharing of space, knowledge and skills, as well as collaborative opportunities, between artists, local residents and neighbourhood organisations.
Open School East was co-founded by Anna Colin, Sarah McCrory, Laurence Taylor and Sam Thorne. It is commissioned by the Barbican and CREATE London.
About Open School East
Open School East comprises three interrelated elements: a year-long studio-based study programme; a shared activity space open to neighbourhood groups and individuals; and a public events programme. In September 2013, it will launch its pilot year in a former library, which until 2011 was home to the Hackney Archives. Reopening part of the building for communal use is key to the initiative, as is opening out activities generated within the space to different constituencies. The initiative has been developed in response to increased tuition fees in the UK and is a commitment to providing alternative learning and inviting interactions between an artistic community and the local neighbourhood.
How will the study programme function?
Following an interview process this spring, approximately 12 associates will be selected to join the pilot year of Open School East. They will be provided with free tuition – from international artists, writers, curators and theorists – as well as studio spaces, for the course of one academic year. As part of the programme, the 12 associates will work towards developing collaborative and locally focused projects. These will be developed from discussions between the associates, the team and local stakeholders. In lieu of paying fees, they will be expected to take an active role in devising and running public activities in and around the building.
An average of two days of teaching a week will be provided for the duration of three terms. Guests will be brought in to devise wide-ranging sessions (workshops, lectures, reading groups, seminars, tutorials, group crits, short- and medium-term projects); selected sessions will be open to the public. A small group of advisors will accompany the associates in the development of their projects. The study programme will be overseen by a part-time team, as well as being partially self-directed by the associates. Open School East is a non-accredited programme.
Guests speakers and advisers include: Larry Achiampong (artist); Ed Atkins (artist); Defne Ayas (director, Witte de With); Ed Baxter (director, Resonance FM); Polly Brannan (artist, educator and curator); Pablo Bronstein (artist); Brian Dillon (writer and critic, RCA); Tim Etchells (artist and artistic director, Forced Entertainment); Janna Graham (project curator, Serpentine Gallery); Bahbak Hashemi-Nezhad (designer); Jeanne van Heeswijk (artist); Sarah James (art historian, UCL); Marysia Lewandowska (artist); Maria Lind (director, Tensta Konsthall); Nils Norman (artist); Olivia Plender (artist); Elizabeth Price (artist); Daniel Sinsel (artist); Mike Sperlinger (curator, LUX); Sally Tallant (artistic director, Liverpool Biennial); Marina Vishmidt (writer), amongst others.
Who is it for?
• Associates at Open School East will be artists who have in recent years completed a BA, MA or have taken alternative routes into art-making. The programme is for anyone interested in thinking critically about what it means to develop a shared building and to work in collaboration with individuals and groups within a neighbourhood.
• The associates will, in different ways, take an active role in making the former Rose Lipman Library a dynamic space – a site for social, intellectual and practical exchanges. Open School East is interested in creating a dedicated temporary community of artists with wide-ranging practices, interests, experiences and skills, who will be selected accordingly.
Practical information
The study programme will run from mid-September 2013 to mid-July 2014, with a three-week break between each term. Teaching, tutorials and group meetings will be concentrated on Thursdays and Fridays (all day from 10am to 6pm, and some evenings), however these might occasionally take place on other days. In addition to being present on these days, the associates will give the equivalent of one day of their time every month to run or assist with public activities. Successful applicants will need to ensure they can make a time commitment for the duration of the 10-month programme.
Term 1: 19 September - 20 December 2013
Term 2: 9 January - 27 March 2014
Term 3: 17 April - 18 July 2014
Open School East being a non-accredited programme, we regret that we're not able to sponsor visa applications for overseas associates. Open School East does not currently grant bursaries, nor does it provide associates with accommodation. However, we offer assistance with finding accommodation and getting started in London.
About the studio spaces
Work spaces for the 12 associates will be located in the former children's library on the first floor. At present, it is an open plan room. Between May and July, we will meet to discuss the future organisation of this space with the appointed associates and an architectural consultant. We will decide together on whether the space should be partitioned, left open, or partly enclosed. The studio spaces will be open every day until approximately 9pm and will be closed for one week during the Winter and Easter breaks.
How to apply
Please prepare a single pdf file, no larger than 5mb, titled following this model: firstname_surname.pdf
The PDF should contain:
1. A statement: we would like to hear about your background, practice and current artistic preoccupations. What do you hope to gain from attending Open School East, and what qualities and ideas can you bring? Please limit responses to 1,000 words.
2. A CV: this should include your address, telephone number, email and URL if relevant (no more than two pages).
3. A portfolio presenting your recent work: please include images, captions, text and links to video and sound works stored on the Internet (up to 20 pages).
Interviews will take place on Monday 29 and Tuesday 30 April, in London or over Skype for those applying from outside the UK who are unable to travel. The selection panel will comprise the team and members of the advisory committee. Applicants invited for interview are welcome to bring original material.
The deadline for applications is Monday 15 April 2013, 6pm and the address to send your pdf is: applications@openschooleast.org
For any question on the application process or the school, you can email us here: info@openschooleast.org
We expect a high number of applications; for this reason we won't be able to give personalised feedback to applicants who are not shortlisted for interview.